In-Home Health Services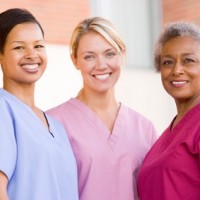 Circle Of Care employs a staff of dedicated caregivers that is thoroughly screened and credentialed, a process that includes a completed application, phone evaluation, personal interview, professional and peer reference verification, extensive background investigation, skill demonstration, initial and annual competency exams, and an evaluation. Circle Of Care has extensive experience providing homecare services for adult, senior, and pediatric patients with a variety of conditions.
Circle Of Care ensures that all homecare services are provided for the entire time they are needed. We require that a care representative who is familiar with your specific needs is available 24-hours a day, seven days a week, so high-quality assistance is always at your fingertips.
Circle Of Care and its team of in-home caregivers specialize in the following treatment areas, and offer the following homecare services:
Home Health Care
Circle Of Care has years of experience providing long-term, continuous care to chronically ill patients. Circle Of Care's home health team, which provides personal care, management and/or treatment of a variety of conditions includes skilled nurses, therapists, medical social workers (MSWs), and home health aides (HHAs).
Pediatric Care
With Circle Of Care, children receive the necessary assistance they need at home to have a safe, healthy, and happy childhood. Whether a child needs basic nursing assistance or high-tech therapy, the child's family can rely on Circle Of Care to provide a healthcare professional that is qualified to perform these vital pediatric services.
Companion Care
Companions are available on an as-needed basis, with no minimum time constraints. They ensure your loved one receives the attention and care needed, while delivering the peace of mind of knowing someone is watching over them.
Conditions Treated
Circle Of Care's dedicated team of homecare providers cares for adult, elderly, and pediatric patients with a variety of conditions including Alzheimer's disease, cancer, neurological and respiratory disorders, and more.
Services provided may vary by office location.